I won't lie: When I first met Rachel Segall and Simone Oppenheimer Mandel in 2023, I was intimidated. They had extensive careers in creative agencies and had successfully founded NBZ, a consulting/coaching firm, three years earlier.
What did they want with me?
Like many consultants, they found that the growth of their practice was constrained by time and energy. Simone and Rachel were working tirelessly to scale their business — but they simply didn't have more hours in the day.
I'm Andrew McGill, a product builder who turns delightful ideas into real things.
I used to make stuff at The Atlantic and POLITICO. Now I build things with people like you.
How I helped them
Together with my collaborator, Andrew Phelps, we held two days of intensive workshops with Simone and Rachel. During this time, we delved into their business—understanding their client base, problem-solving capabilities, and unique strengths.
A few things became clear:
The NBZ founders had a tremendous network — and were seen as extremely valuable connectors in their industry.
They had generated an extensive array of resources: frameworks, sample pitches, project management forms, etc.
They had built an exclusive Slack group that people were clamoring to join.
We ran through a lot of ideas in our early brainstorming — which I unfortunately can't share here, because they still might do some of them 😊
But by the end of the first day, it was obvious Rachel and Simone had all the pieces for an extremely valuable membership program — if we could fit the puzzle together.
This was the provocation that made their eyes light up: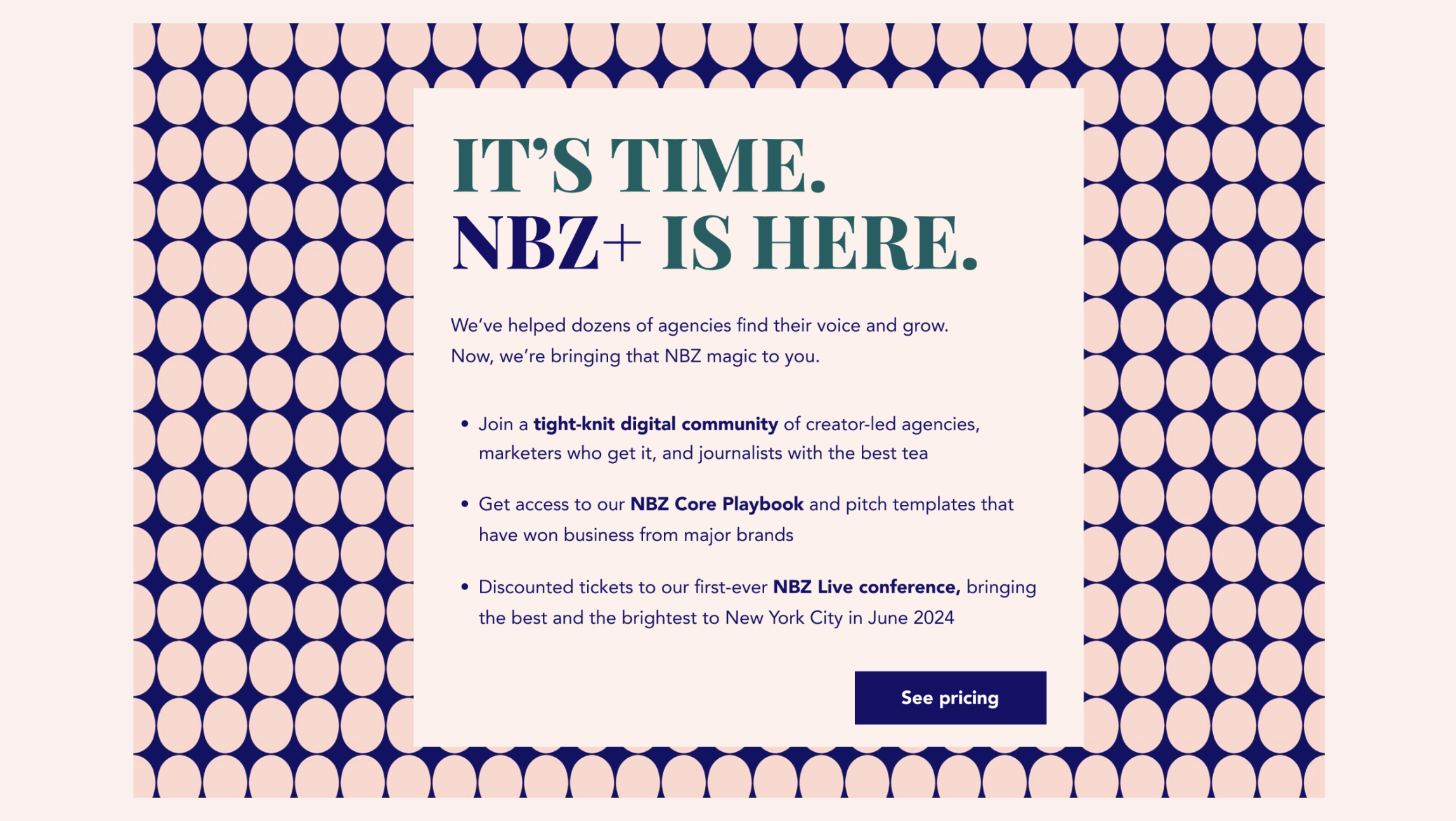 Research and implementation
Now that we had the idea, we had to make sure people would actually pay for it.
Andrew and I interviewed more than a dozen agencies, teasing out which membership features were worthwhile (and which just sounded good on paper). We followed up with a survey posing some tougher questions — including how much people were willing to pay.
We ended up with a bundle we felt good about: personal coaching from the NBZ founders, a cache of resources to bootstrap your own growth team, and a high-value digital community.
As for the technical build, NBZ already used Squarespace for their website. I was skeptical about its capability to manage advanced membership features.
However, Squarespace has a fairly robust "digital products" suite, including paywalls and tiered membership pricing. So, we decided to stick with the familiar and bootstrap an MVP at minimal cost. The real value was in the content and community that NBZ offered.
What we created
The result was NBZ+ — a brand-new membership program for agency growth teams. Here's the awesome sizzle reel Rachel and Simone's production team put together:
Since launching in October 2023, it's already seen tremendous pick-up. NBZ+ has big plans for 2024. And for me, it was the perfect project: A new challenge, an excited team, and a good mix of strategic and hands-on work.